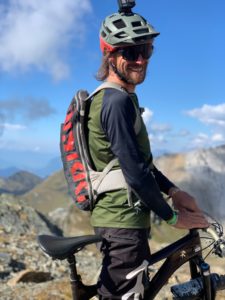 Guided by my passion for mountain biking and skiing, I naturally came to settle in the heart of the Alps 10 years ago.
My desire to make my passions my trades first led me to train as a cycle technician with the CNPC in Grenoble in 2010. I was immediately able to put my skills into practice in different stores and as a technician on the downhill mountain bike world cups for the Commencal / Riding Addiction team. A hell of a great experience!
Wishing to transmit my passion for mountain biking, I then became an instructor / guide by training with the IFV of Voiron in 2016. I am therefore in possession of a BPJEPS (Professional Certificate of Youth, Popular Education and Sport) which guarantees my professional skills as a sports instructor and in terms of security. I can therefore exercise independently and set up educational programs related to mountain biking.
Also in possession of PSE1 (First Aid in Level 1 Team) I am now armed with all the skills necessary to guide groups of mountain bikers on the most beautiful trails in the region, safely!